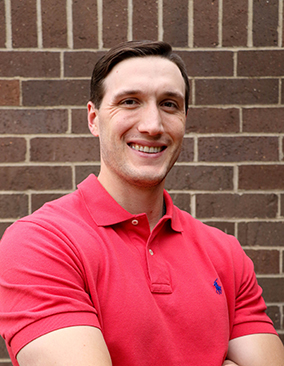 Meet Alex Flaschenreim
Team Member
Growing up, Alex had some very strong mentors who guided him and helped him become who he is today. Because of those influences on his early years, Alex believes that the least he can do it to pay it forward and help others. A former Harry Meyering employee told Alex about the job opportunity at Harry Meyering and he was interested. Although Alex did not have work experience with people with disabilities, he had gone to a daycare where there was a blind child and he grew up with neighbor with disabilities. Both of these individuals taught Alex that despite their disabilities they could do anything that others were doing with the right support.
Alex started at Harry Meyering in 2012 as a part-time DSP in the Semi-Independent Living Services program and now works full-time seeing over 18 individuals each week. Alex really enjoys all of the different people and their unique personalities. Nothing brightens Alex's day more than being greeted with a smile and knowing that the individual is generally happy to see him. Alex also enjoys seeing individuals accomplish their goals whether it is another lap around the park during a walk or making lifetime decisions to live healthier.
Alex is originally from Prior Lake, MN. Alex is the middle child with an older brother and a younger sister. According to Alex his parents are his heroes. They have always supported Alex and helped him work through decisions. Whether Alex is looking for some advice or watching his parents stay positive, even when things get tough, has taught Alex to never give up, to be respectful and to give 100 percent effort no matter what he is doing.
He moved to Mankato to attend Minnesota State University, Mankato to study finance so that he can one day be a financial advisor. Alex likes to be active in his spare time; he enjoys fishing, running, biking, skiing, golfing and skeet shooting. He is also an avid sports fan who is dedicated to his Minnesota teams—the Vikings, Gophers, Twins and Timberwolves. A little known quirky fact about Alex is that every once and a while he enjoys a good romantic comedy such as Crazy, Stupid, Love or Grey's Anatomy.
"The purpose of life is to contribute in some way to making things better" -Robert F. Kennedy