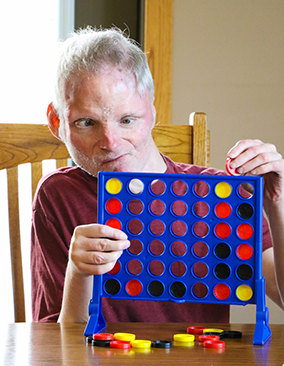 Meet Larry Prichard
Individual
Larry is a quiet man with a sparkle in his eye. He enjoys nature and being at parks. He also likes to go out to eat and prefers restaurants that serve breakfast food. Larry likes to shop, visit with Harry Meyering staff, go on picnics and being outside sitting during the summer.
When Larry is at home he listens to soothing music, especially Frank Sinatra, and enjoys playing games with friends such as Connect Four. Larry prefers to spend one-on-one time with people rather than hanging out in a large crowd. He is not a fan of traveling but has made it to the zoo and science museum in the Twin Cities.
Larry has a twin brother, Steve, who also lives at Harry Meyering. He also has two younger brothers, Doug and Dan. Doug lives in Mankato and Dan lives in the Twin Cities with his wife and daughter.