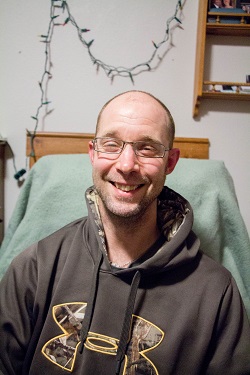 Meet Lee Young
Individual
Lee is not one to sit idle for long periods of time; he enjoys keeping himself busy. He loves to listen to music, especially rap, country, hip hop and even classical and sometimes this may even lead to a little singing and dancing. Lee also participates on a flag football team with LEEP and enjoys bowling. Lee also likes to demonstrate his creative side when he is writing hymns, bible verses and letters to his girlfriend. During the weekend Lee likes to take it easy and listen to music, watch TV, especially a good football game, and play games on his Xbox 360.
Lee's family is very important to him and he loves to see them whenever he can. Lee has a girlfriend and someday he would like to get married.
Lee enjoys a good home cooked meal and his favorite is homemade pizza. Lee has traveled to Iowa and the Wisconsin Dells and someday hopes to return to the Wisconsin Dells for another vacation.
Lee loves to help others and just be a good listener. His ideal job would be any job that allows him to use his skills and talents to help others.