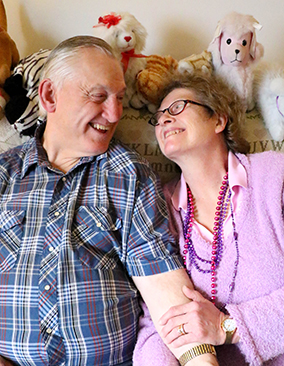 Meet Robert and Irene Allen
Individual
Bob was born in Delavan, MN in 1952 and lived on the family farm with his parents and seven siblings. He attended school in Winnebago and remembers helping with chores and baling hay. He had numerous jobs through the years including washing cars, dish washing at Baker's Square and most recently, dish washing at Bethany College. In 2016 he received his 25 year award for employment through MRCI. Bob has a strong work ethic and enjoys the routine of his job and connections with co-workers and peers.
Irene was born in Mankato, MN in 1951 and she lived with her parents and her seven siblings until after high school. She worked at MRCI for five years and then started working at Minnesota State University, Mankato washing dishes from 1978-2016. She recently made the decision to retire and is enjoying the slower pace and leisure opportunities.
Irene and Bob met while were working together at MRCI. They dated for 12 years before they were married in 1984. According to Irene, her mother said her boyfriend, Bob, needed to convert to Catholicism and take classes before they are able to marry. Bob complied without hesitation to the request. If you ask Bob and Irene about the benefits of being married, they responded together with smiles on their faces "It's wonderful!".
Both Bob and Irene are fans of country music, western TV shows, Twins baseball and watching the Minnesota Vikings. Bob enjoys playing on a horseshoe team every summer and Irene cheers him on. They are active with LEEP events and trips, attend classes at Lincoln Community Center and enjoy socializing with friends and family. Bob and Irene regularly attend church and special activities with Saint Peter and Paul's Catholic Church. Their favorite vacations were going to Walt Disney World in Florida and also traveling to Hawaii.