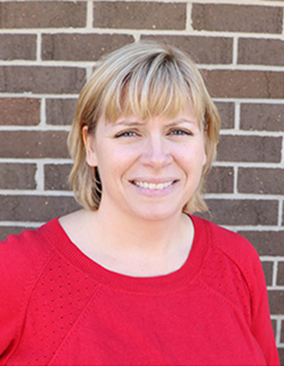 Meet Jessica Pitts
Team Member
When Jessica was in high school she started volunteering at Harry Meyering's Homestead Intermediate Care Facility where her mother worked. After high school Jessica attended South Central College and graduated with an associate's degree in Community Based Supports for People with Disabilities. Jessica was hired in 1998 as a part-time DSP in the Supported Living Services program. She then transferred to the Intermediate Care Facilities as full-time DSP and was promoted to Apartment Coordinator. Most recent, Jessica transferred to the Semi-Independent Living Services In-Home program where she worked first as a DSP and continues to work as Community Living Coordinator (CLC).
The thing Jessica enjoys most about her job at Harry Meyering are the individuals she supports. Everyday brings something new. She enjoys helping the individuals try and learn new things. As much as she is helping the individuals she supports learn something new, they teach her new things everyday as well. Jessica recalls working with an individual on cooking. Together they both learned—Jessica taught the individual about kitchen safety and putting healthy foods in recipes while Jessica learned how to cook with a dutch oven.
Jessica reigns from the Judson/Lake Crystal area and now lives in Mankato. In Jessica's free time she enjoys spending time with family and friends, especially watching her nephew participate in sports.
Someone once said "Treat people the way you want to be treated. Talk to people the way you want to be talked to. Respect is earned, not given.". These words ring true to Jessica and help make her the person she is today as she interacts with those she works with—individuals as well as co-workers, her family and her friends.